N.J. State Sen. Paul Sarlo Advises Grads to Take Advantage of the Unexpected
--"Be open to new opportunities and never be afraid to take risks," he says
Students celebrate their degrees at 194th commencement ceremony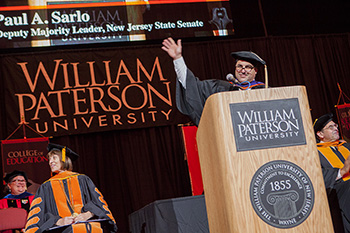 N.J. Sen. Paul Sarlo, who attended William Paterson, addresses the Class of 2017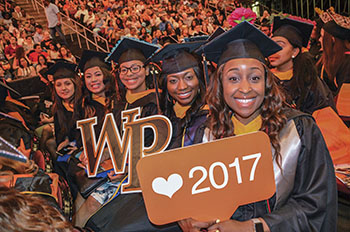 This year's grads span ages 20 to 65, and hail from 13 states and 17 countries.
N.J. State Sen. Paul Sarlo (D-36) told the Class of 2017 to be open to the unexpected and embrace the opportunities that come their way during his keynote address at William Paterson University's 2017 undergraduate commencement ceremony on May 19 at the Prudential Center in Newark. An enthusiastic audience of more than 10,000 family members and friends were on hand to celebrate the graduate and their achievements.
Sen. Sarlo began his college career at William Paterson as a biology major planning to become a doctor, and was also a member of the baseball team under legendary coach Jeff Albies. But he injured his knee and chose not to pursue medicine so he transferred to NJIT where he earned a degree in engineering, became the chief operating officer of a construction company, and later was elected to the New Jersey Assembly and Senate.
"None of this was what I expected," he said. "I thought I was going to play baseball and be a doctor someday. Then life happened and threw me a curve ball. I'm a very lucky and blessed person because in my own way, I have been able to make a difference in people's lives."
"As an engineer, I know that the quality that gives steel its strength is not that it is rigid, but that it can flex and bend without breaking. That's a lesson I put to use in government and in life. Be true to your ideals and advocate for the values you believe in, but do not be adverse to compromise. Be open to different people and different ideas."
Sarlo also encouraged the graduates to balance their careers, relationships and commitments. "Make sure you don't put the people in your life second," he said. "Leadership is not always about being in charge or always being the best or always being right. It's about inspiring others to come together to pursue common goals, despite everyone having different backgrounds or different opinions or different ideas. Strong leaders live balanced lives and show us how we rise or fall together. And leadership is not exercised in 140 character outbursts."
In her comments to the class, President Kathleen Waldron applauded the nearly 2,300 students in the Class of 2017 on their many accomplishments and the obstacles they overcame, noting that 99.5 percent of the graduates worked while attending school, many with two jobs.
"Obtaining this university degree may have been tough, but it is worth it. We know that to be true because your degree will open doors for you and your families, in this country and throughout the world," she said. "There are challenges facing us, as New Jerseyans and Americans, and we will call upon you to take your place as citizens and leaders—in no small measure because of the education you have received at William Paterson University."
Valedictorian Jessica Geary, a January 2017 graduate who earned a bachelor's degree in earth science, summa cum laude, used the research she conducted on tree rings with her faculty mentor, Nicole Davi, assistant professor of environmental science, as a metaphor for her University experience and that of her fellow graduates. "Our school's strong roots have brought about our foundation to succeed and be here today," she said. "It is this old and wise tree called William Paterson University that has allowed us to stand tall, branch out, and be who we are today with confidence. Let us be courageous and follow our admirable destinies tirelessly, and with perseverance, while demonstrating our Will.Power."
The graduates, who ranged in age from 20 to 65, hailed from 13 states and 17 countries, and included 24 veterans and active service members. Thirty percent are the first in their families to earn a bachelor's degree.
Among the students earning degrees were Rana Daher, a Syrian refugee who was two years into her career at Aleppo University when war broke out. Her family abruptly moved to the United States, and she enrolled at William Paterson. Daher, who earned a BS in chemistry, cum laude, says the University community embraced her, and credits Bhanu Chauhan, chair of the chemistry department, with helping her post-Syria transition.
Also graduating is Duvinson Jeanty, a 63-year-old finance major who recently retired from New Jersey Transit. He graduated alongside his son, Benjamin, who transferred to William Paterson in order to study alongside his dad.
Domenic DiMaio '97, president of the William Paterson Alumni Association, welcomed the new grads. "When you embark on that journey into the real world, I implore you to keep William Paterson close to your hearts as I and many other alumni do," he said. "Anyone who has the privilege of being a member of this campus and community understands our motto, 'Will. Power.' I would like each of you to think about the future of this university and the next generations of graduates who will follow you."
During the ceremony, Corey Basch, associate professor of public health, Maria Kromidas, associate professor of anthropology, and Kevin Martus, professor of physics, were honored for their outstanding achievements in research, scholarship, and creative expression; teaching, and service, respectively, as the recipients of the 2016-17 Faculty Excellence Awards. A dozen alumni from the Class of 1967 also processed with the graduates and were acknowledged for having just celebrated their milestone 50th reunion.
Watch the 2017 Undergraduate commencement ceremony
05/19/17